The Chestertown Marina is in the final stages of construction and, according to Chestertown Mayor Chris Cerino, is 90% complete.
Prior to being purchased by the Town of Chestertown in 2012, Chestertown Marina was in an advanced state of disrepair and required a major overhaul to repair and upgrade its infrastructure. Furthermore, as depicted in the video below, the marina was constantly prone to flooding and was forced to close on numerous occasions because of flooding caused by high tides and low pressure systems.
The video below, captured in April 2018, shows what began to be a common site at the marina. Whereas nuisance flooding, typically caused by the right combination of factors (e.g. strong and sustained easterly/southeasterly winds, new moon high tide, and low-pressure systems) happened only a handful of times throughout the year, climate change and rising sea levels caused nuisance flooding to occur more prevalently—once or twice a month, especially during warmer months.
Why The Town Made The Purchase
Leading up to the 2012 acquisition of the marina by the Town, several themes emerged regarding the necessity of the purchase and revitalization of the aged facility. In addition to mitigating the effects of sea-level rise, the importance of preserving public access to the Chester River, especially in a county that prides itself on its waterman heritage, became a central theme and a defining argument.
Furthermore, Chestertown is famously known for being one of six Royal Ports of Entry into the British colony of Maryland, and by the mid-eighteenth century, Chestertown was Maryland's second leading port, trailing only the port of Annapolis. Purchasing and revitalizing the marina was about preserving Chestertown's 300-year-old legacy of being a working port.
In addition, there is no denying the marinas impact on the local economy—especially when the upgrades are complete. In a Town report, the revitalized marina is expected to support 100 existing jobs and create employment opportunities on the water. Furthermore, by providing a top-tier facility for slip-holders and transient boaters, Chestertown can realize an increase in heritage tourism to town and the marina could generate additional retail activity in Chestertown's National Landmark Historic District.
The Financing
Over the past five years, the Town of Chestertown has raised approximately $5.75 million dollars to revitalize the marina. With a total project cost of $6 million, the Town needs to raise an additional $250,000 to fully finance the project.
A breakdown of the financing for the project is detailed below. Grants came from a variety of state and federal agencies including United States Department of Agriculture, State of Maryland Capital Budget Allocation, Maryland Department of Natural Resources, Maryland Department of Housing and Community Development, and Maryland Heritage Authority
Grants: $4,035,000

Town of Chestertown Financing: $598,000 (1.375% 40-year USDA loan, lowest rate in program history)

Private Donations: $870,000

Sale of Armory to Washington College: $250,000
What Has Been Done
As the completion of the marina revitalization nears, it cannot be overstated enough just how much work has been completed since the Town began working on this project in earnest just two years ago. In May 2018, as depicted in the video below, we touched base with Mayor Chris Cerino to get an update regarding what had been done up to that point.
Drone photos captured by Shore Studios | November 2017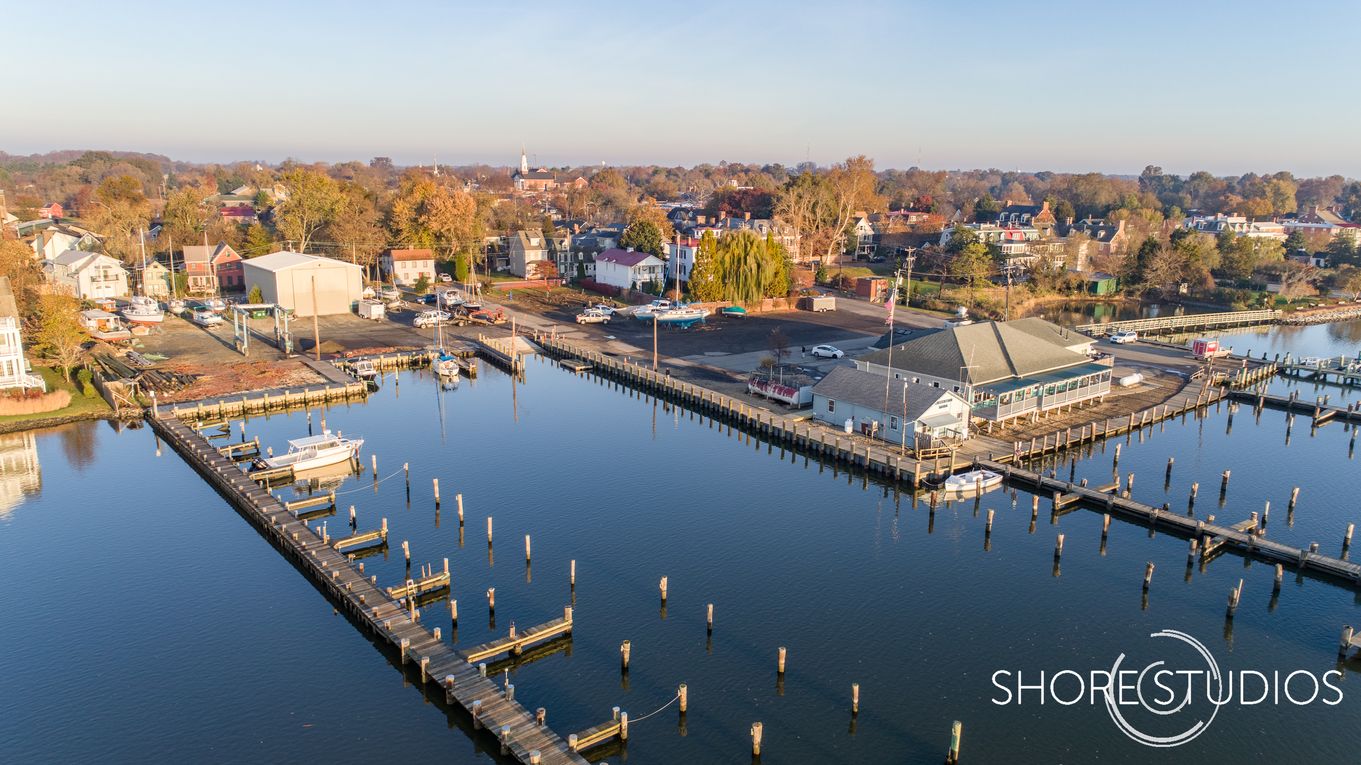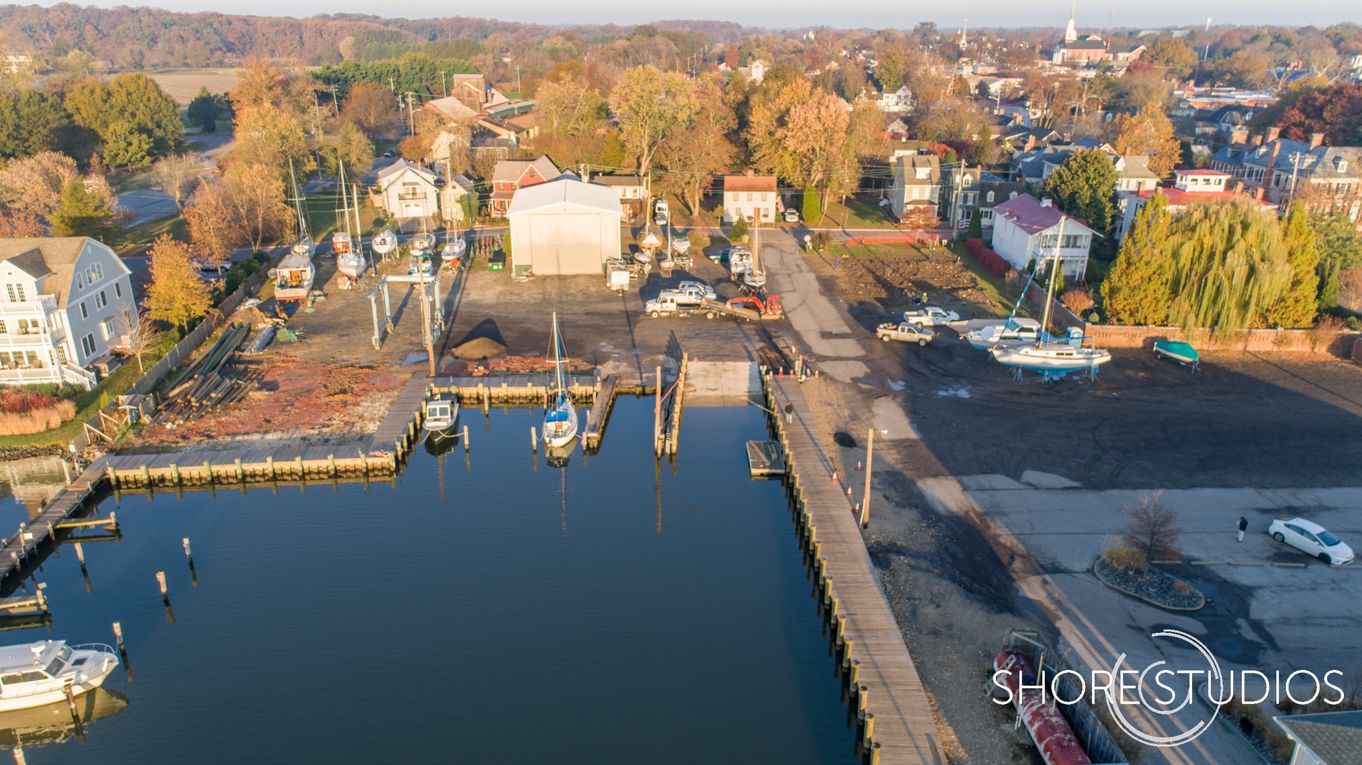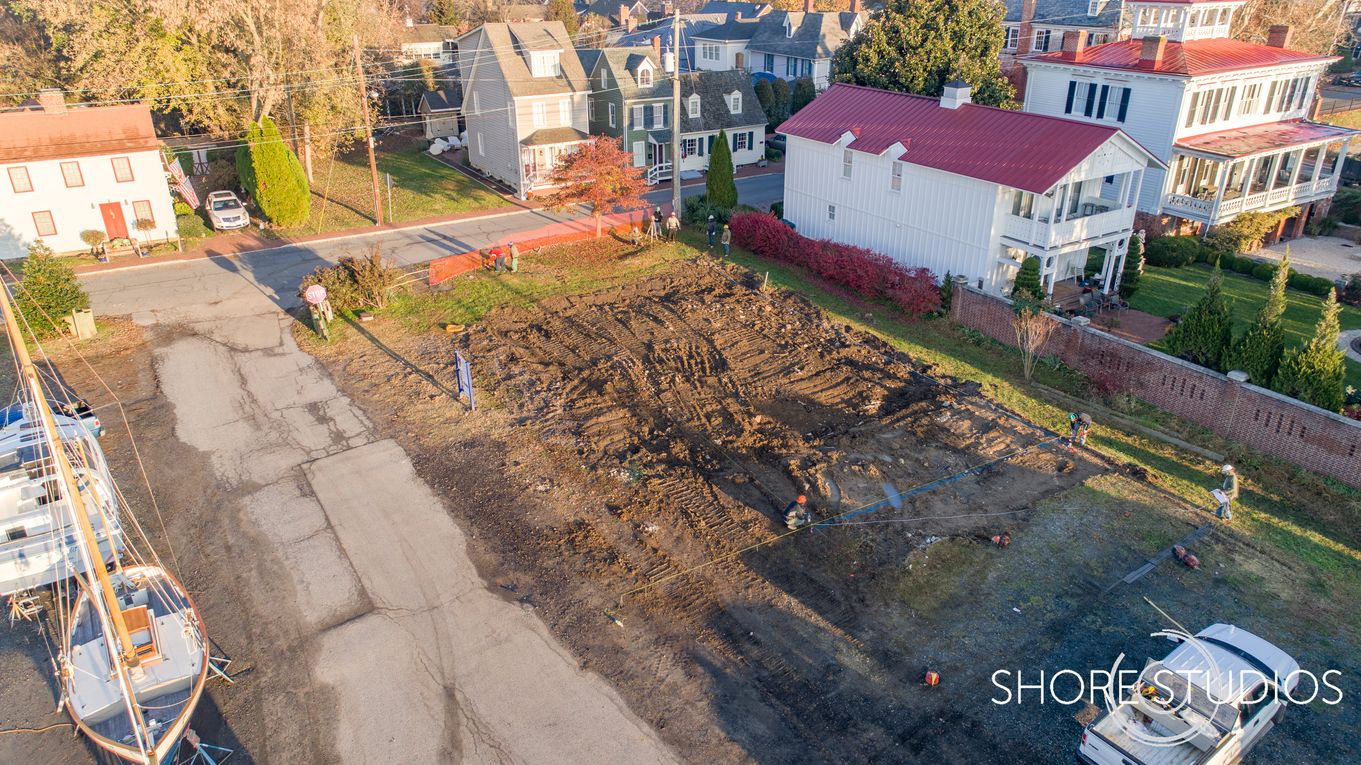 Where We Are Now
Since May, the marina has gone through a major transformation as the various contractors apply the finishing touches.
Dissen & Juhn Company, based in Stevensville, MD, completed the major "water-side" infrastructure overhaul. The marina basin was dredged to a controlling depth of 6 feet, a major improvement to the previous marina basin which was heavily silted in and had a depth of approximately 2 ft and was shallower in some areas. Furthermore Dissen & Juhn Company installed new docks, bulkheads, and a boardwalk. Unlike the structurally unsound docks and boardwalk of the marina pre-revitalization, the new walkways are incredibly sturdy and will ensure residents, boaters, and tourists can enjoy the marina for years to come.
David A. Bramble, Inc, headquartered in Chestertown, MD completed the major "ground-side" infrastructure overhaul of the marina and work included underground utility work, raising the grade of the entire property by two feet, and grading the surface parking lot and drive areas. An additional layer of asphalt will be laid by the Spring of 2019 with parking areas designated and striped. Raising the property by two feet—a major endeavor—is expected to greatly mitigate the flooding that occurs on the property.
Chestertown based Yerkes Construction Company was the contractor that oversaw the construction of the Marina Interpretive Center, a brand new addition to the Chestertown Marina. The Marina Center, expected to be operational in the Spring of 2019, will have showers and laundry facilities available for slip holders and transient boaters. Furthermore, ShoreRivers, a nonprofit organization working to improve the health of Eastern Shore waterways, located their Chestertown office in the facility, providing a longterm, lease paying tenant to the building. Finally, the building will also be home to a visitor center like space, to be operated by the Town of Chestertown, that will provide way finding and visitor services to marina visitors. Space will be dedicated in the center to interpret and showcase the story of Chestertown and its 300-year old waterfront. Various staffing scenarios are being considered by Town staff.
"For a town of our size to take on such an ambitious and expensive project, it is nothing short of miraculous that we have come this far with all of the infrastructure improvements at Chestertown Marina. When we complete the project, this rehabilitated facility will become an economic engine for Chestertown, Kent County, and the upper Eastern Shore for many years to come."—Chris Cerino, Mayor of Chestertown
Drone photos captured by Shore Studios | November 2018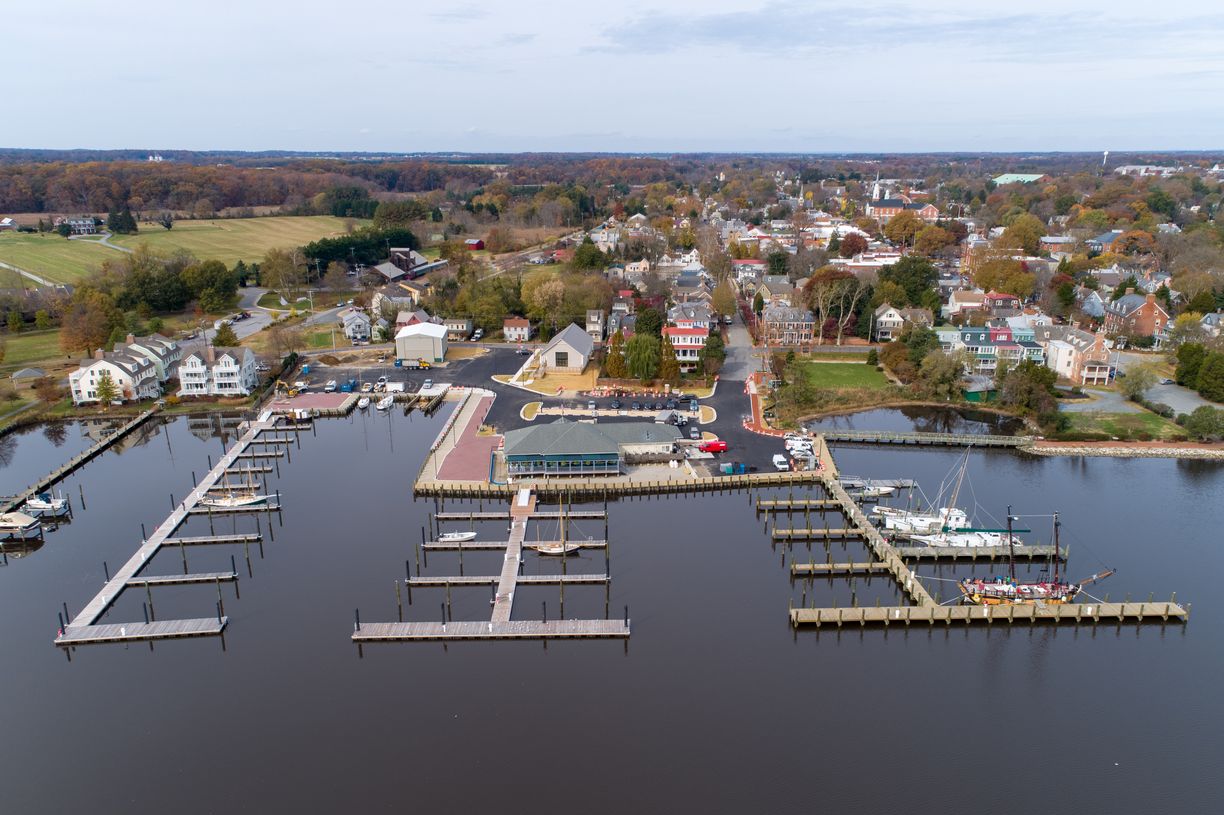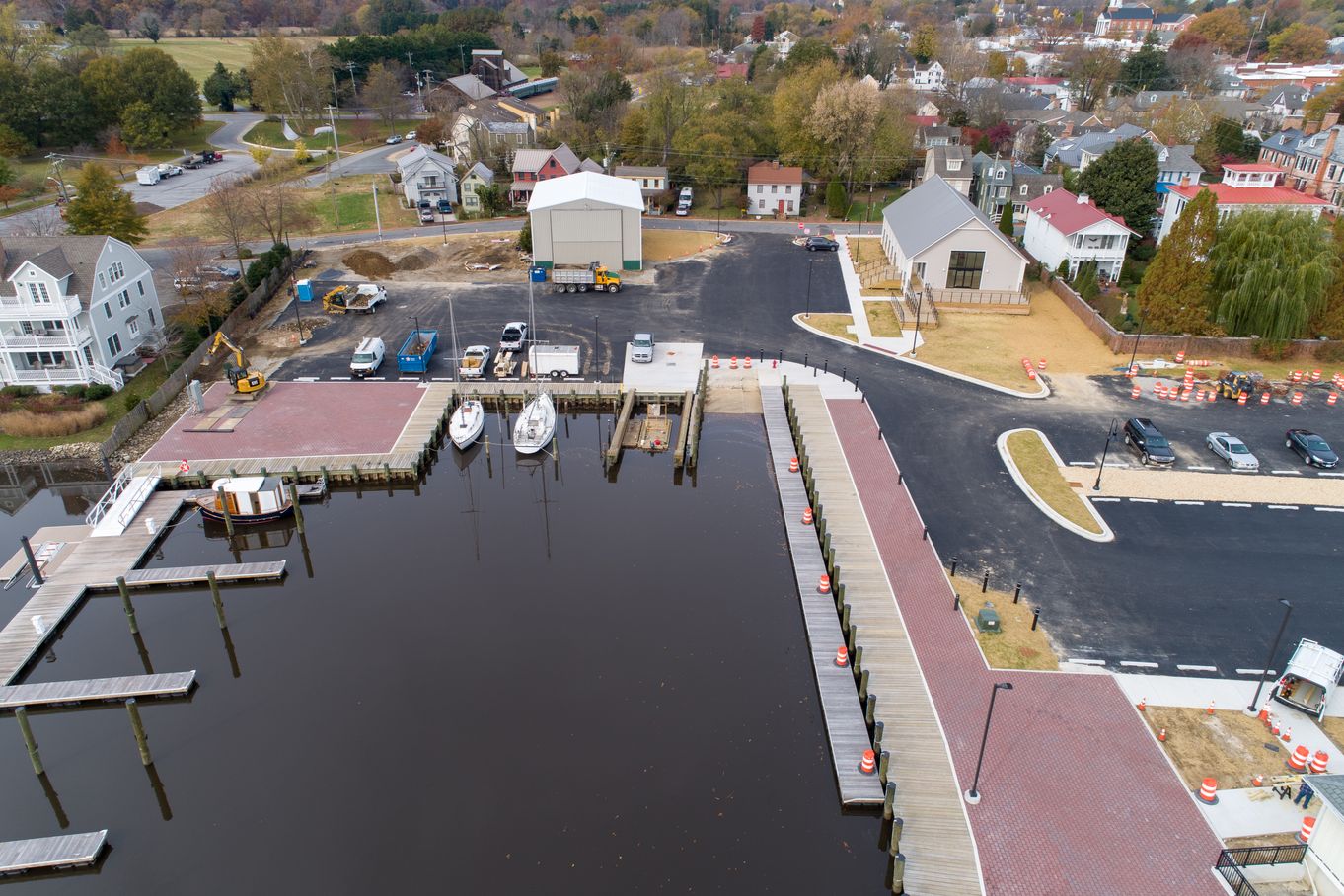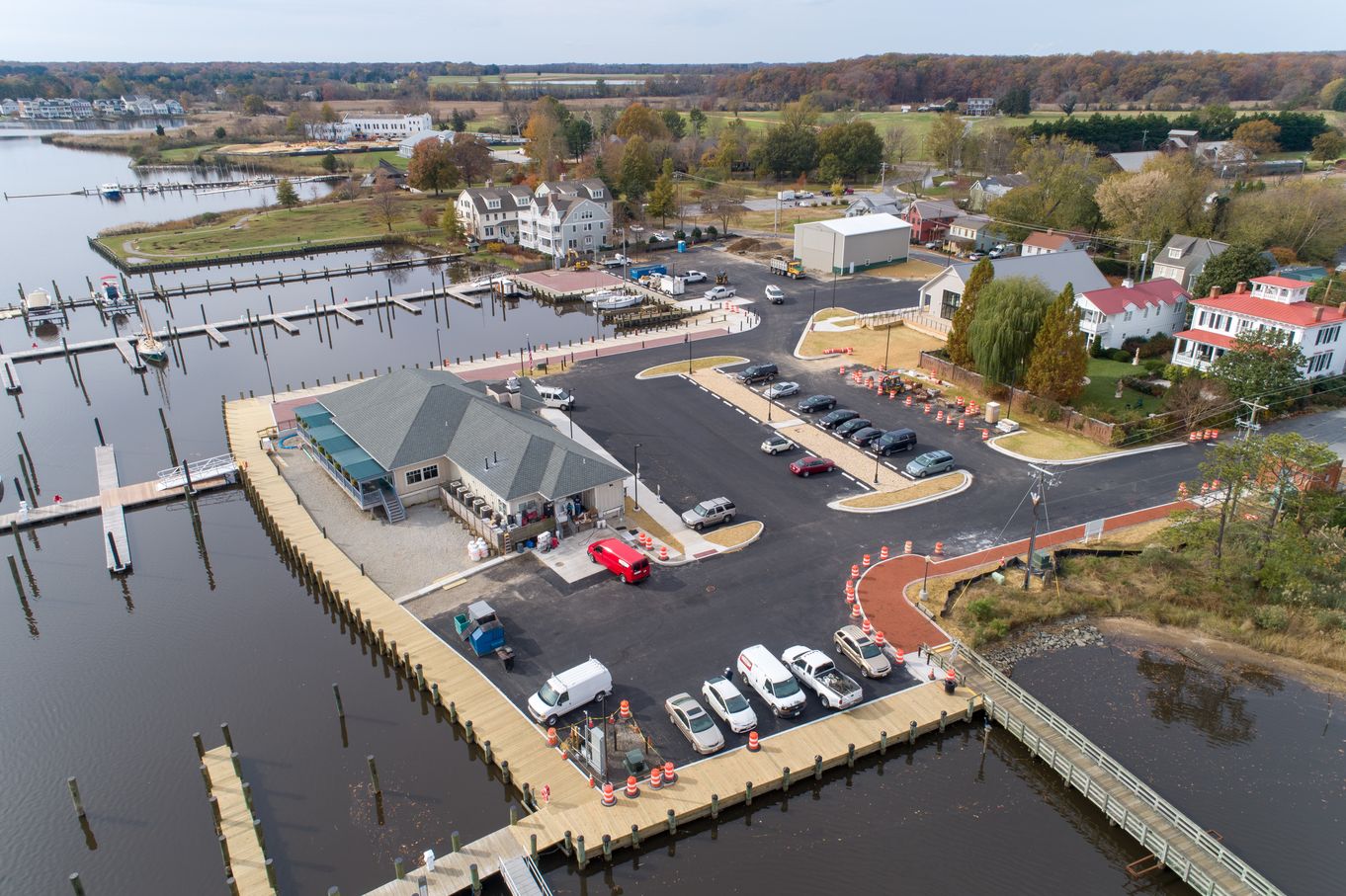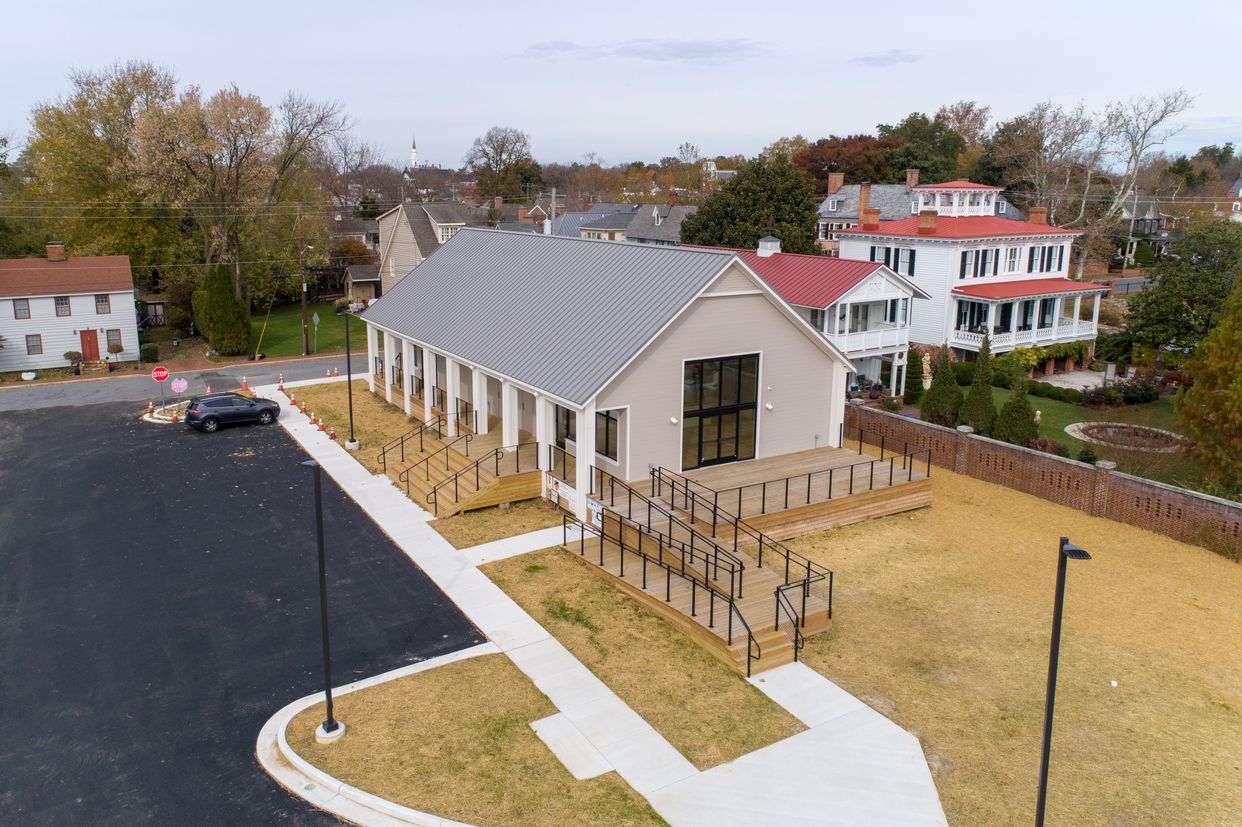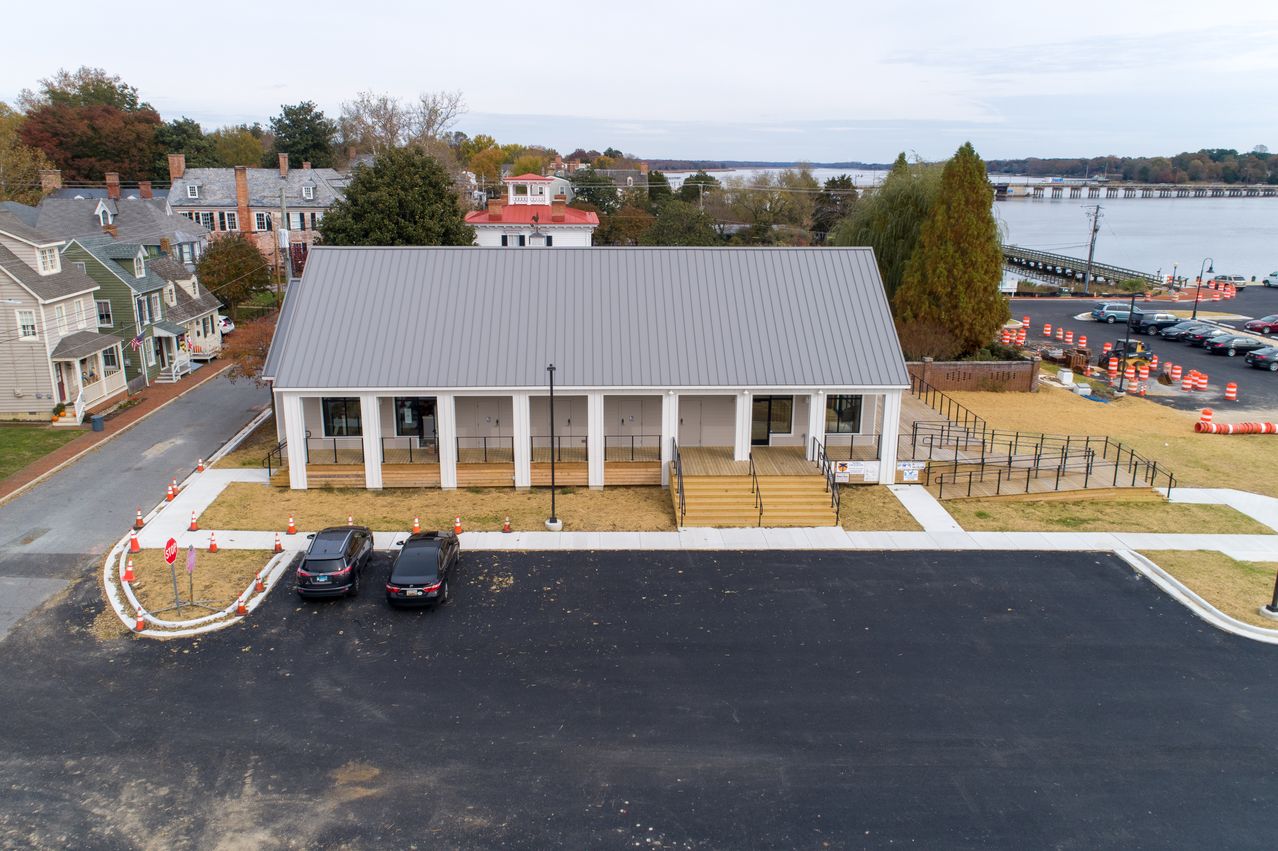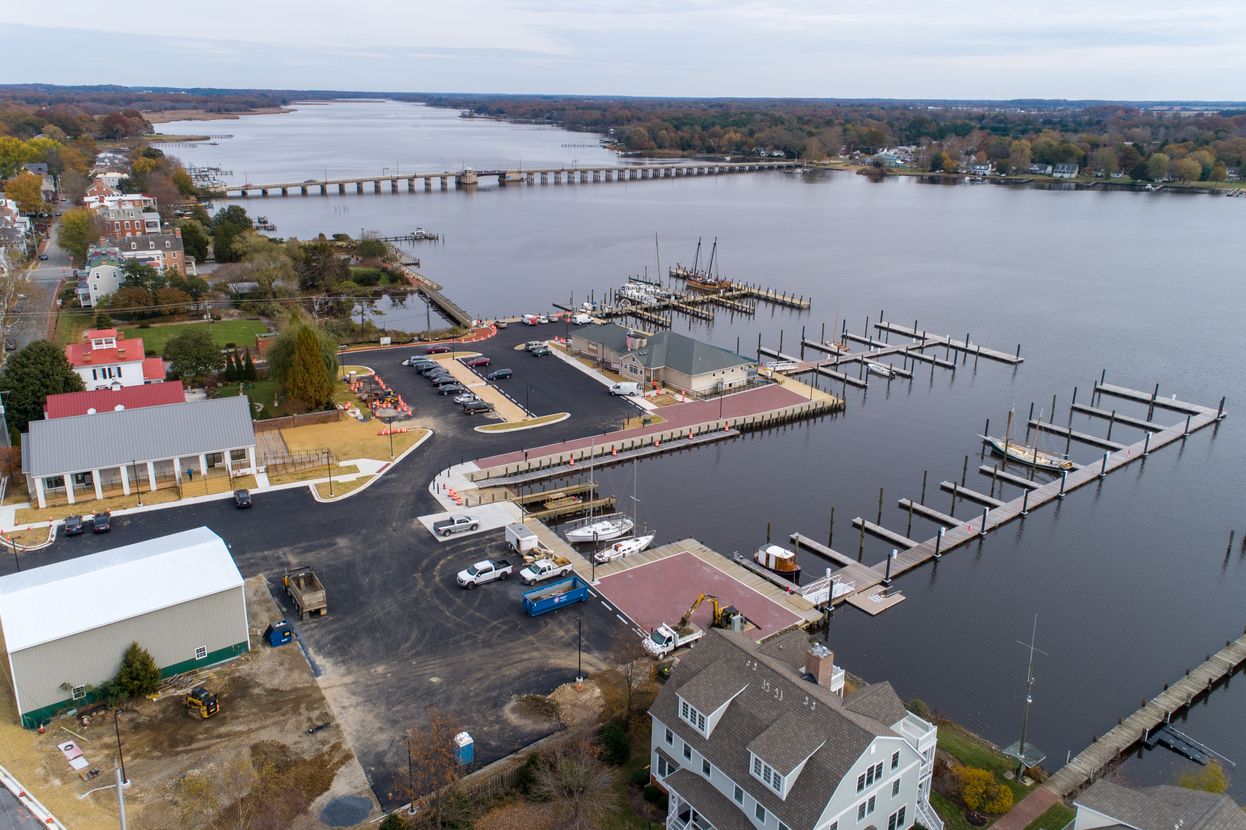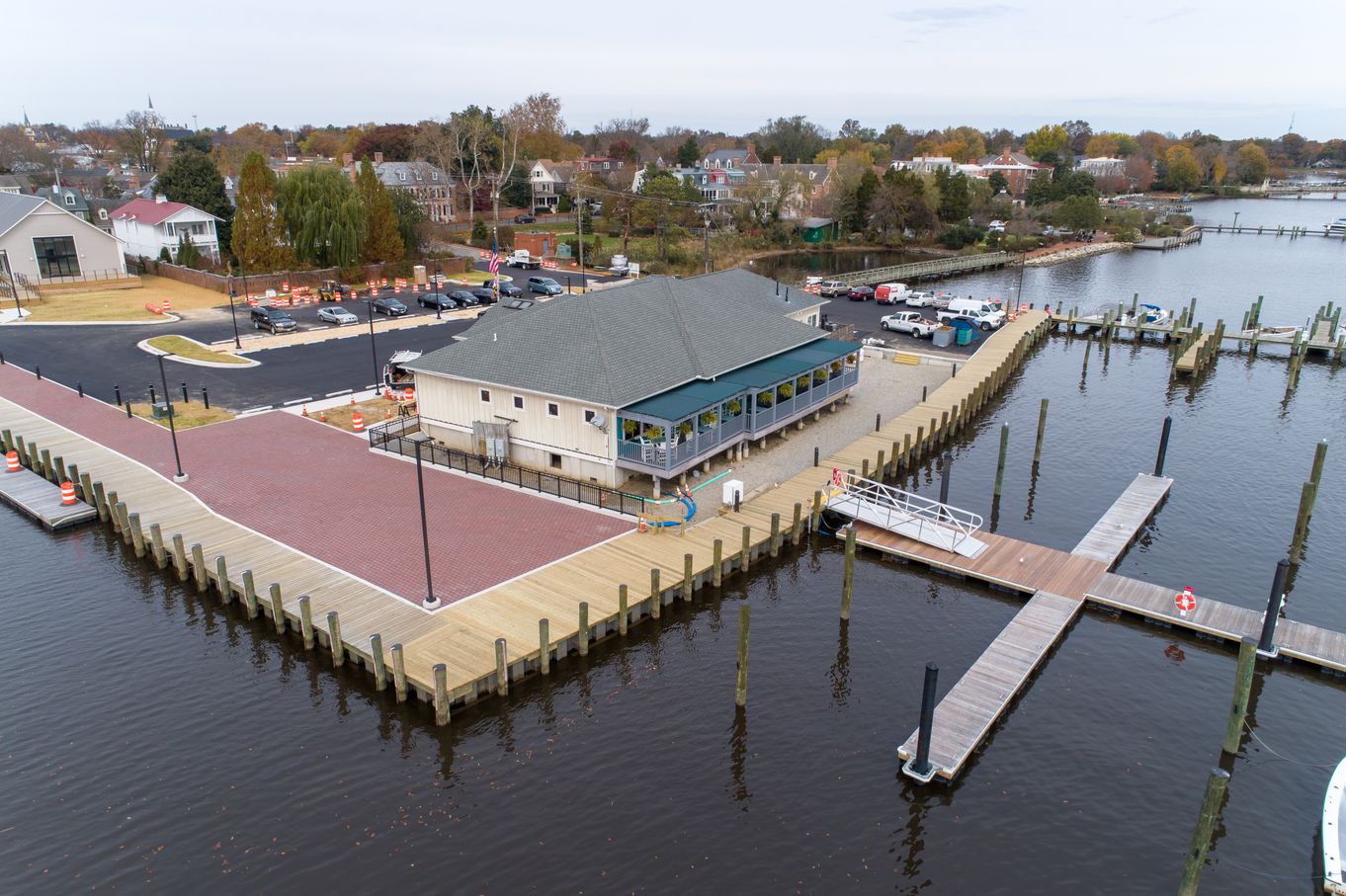 What Is Left To Be Done
The finishing touches to the marina revitalization are currently underway, with many of them expected to be completed by Spring 2019. The final work that needs to be completed is as follows:
Lay the final layer of pavement in the parking lot and stripe the parking spaces.

Install two floating finger-piers and two fixed finger-piers to accommodate an extra eight boats.

Extend the boat ramp into deeper water.

Complete the extension of the fuel line to the fuel dock.

Apply final landscaping.

Complete fundraising.
How You Can Help
Members of the community are invited to donate to the project to help raise the final $250,000 needed. Donations are tax deductible and can be made in cash, check, or stock options. A list of naming opportunities are available below. If interested, please call the Town of Chestertown at 410-778-0500.
What are you most excited about at the marina? Comment below.
And Lastly…
With an improved marina, what can we expect from future Sultana Education Foundation's Downrigging Weekend? Chestertown's premiere tall ship festival could draw more ships and more visitors, a boon for the event and town.
Drone Video of Downrigging Weekend 2017 Captured by Shore Studios
Message From The Author
We have provided longterm coverage of the Chestertown Marina as it has undergone a major revitalization. With our drone, cameras, and story telling, Shore Studios has a passion for working with individuals, businesses, and government agencies to capture the incredible things they are doing to improve the life and well-being of their surrounding community. Whether it is documenting the history and tradition of a storied lacrosse program, capturing the construction progress of a large warehouse belonging to a beloved company, showcasing a town going through a transformation, or highlighting what makes a real estate listing so special, one can rest assured that Shore Studios has the ability to truly capture the moment. If you have a story you want documented and told in a compelling and engaging manor, contact us today—you will be very glad you did so.—Sam Shoge, Principal
New Perspectives Await
Sam Shoge founded Shore Studios in the spring of 2017 to capture photography and videography of the Eastern Shore and Chesapeake lifestyle from new, aerial perspectives. Using sophisticated drone technology, Shoge is passionate about bringing a new dimension to storytelling regarding what makes the Eastern Shore and Chesapeake Bay so special.